How to Create Impactful Magazine with AnyFlip Magazine Maker?
There is a trend that a majority of people spend much time in reading digital magazines online. When sitting in the waiting room, reading amazing magazines can make spare time more fun. What is more, they can use devices to search knowledgeable or fashionable magazines to broaden horizons.
In fact, digital magazine offers visual, entertaining experience for people. It fulfills people's daily life with informative content. Then, as a publisher or designer, is there any powerful magazine maker for making impactful magazine easy and quick?
The answer is yes! AnyFlip is free magazine maker designed to convert your PDF into an interactive, enjoyable digital flipping magazine in minutes. With advanced Flash & HTML5 technologies, your stylish magazine brings great influences to the world.
Find Your Own Voice
Make sure which kind of magazine you want to create for delivering messages. Clear your ideas and transform them into realistic HTML5 based magazine. Visit AnyFlip.com, tons of digital magazine examples will give you great inspiration. Trusted by 217,962+ publishers worldwide, AnyFlip powerful magazine maker ensures you to create the most stunning digital magazine for business, universities, law, finance, fashion, catering industry and more.
Building up your unique genuine voice no matter in fashion, travel, food, enterprise magazines, you can have great branding voice and make more readers know about you.
Competitive Content Strategy
It is the fact that compelling magazine is significant to delight the existing ones and convert new readers. AnyFlip encourages you to make your magazine content competitive. Beautiful sliders are perfectly displaying content while videos are offering great visual enjoyment for readers. Your content is sure to be accurate and story-driven. At the same time, this free magazine maker enables you to customize background music to resonant readers in relaxed flipping magazine reading.
Frankly speaking, customizing rich content in magazine will be inspiring. It helps to increase website traffic and page views. Millions of readers will focus on your outstanding content on their devices, via all browsers like Chrome, Firefox, Safari, Maxthon and more.
Build Trust with Readers
This powerful magazine maker makes it easy to brand strong personalities and build up everyday communication with readers. After designing magazine with eye-catching content, you can freely upload it on AnyFlip, which provides awesome publishing solution to make your magazine shining. From extraordinary homepage, nice-looking bookcase, analytics feature to SEO and social share, you magazine will attract great attention on this interactive publishing platform.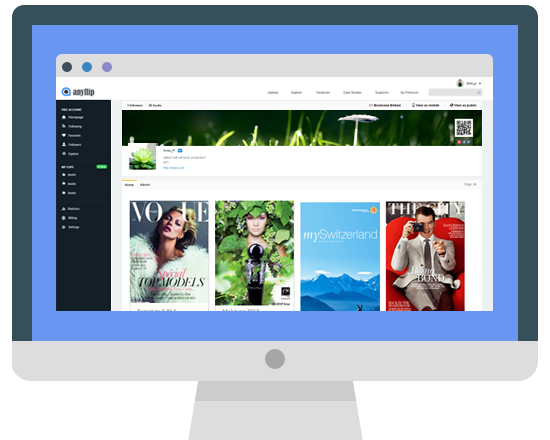 What is more, you can easily manage and harvest your subscribers with flexible subscription management system. Hence, to know about subscribers who like and subscribe to your magazine and learn more about their behaviors. In this case, you can build up close relationship with readers.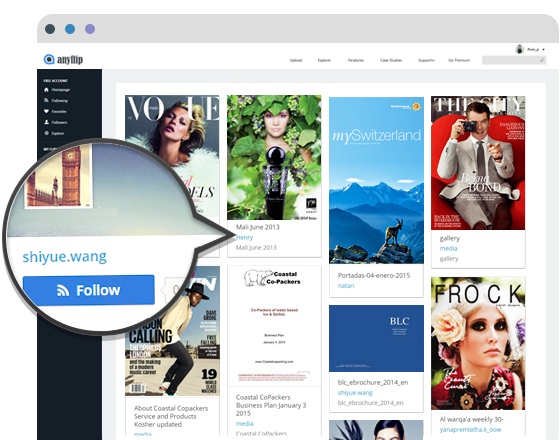 The Bottom Line
It is said that AnyFlip will be a powerful design trend in 2016. This top magazine maker has gained widespread popularity for making impactful magazines with ease. The exquisite magazines is beneficial for sharing stories, promoting businesses, boosting events success and developing readers' loyalty.
You are no need to write codes, this super magazine maker will fit your needs and brings rewarding results.
Previous: Shopping online with page flipping shopping catalog is fun
Download
flipping book
software to have a try now >>
PDF to Flipping Book
PDF to Flipping Book Professional
PDF to Flipping Book Mac
PDF to Flipping Book Pro Mac