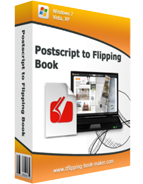 $99
For Windows 7, Vista, XP

Postscript to Flipping Book
To be persuasive under the help of Postscript to Flipping Book!
Right to Left (RTL) Reading;

Offline, DVD\CD and USB version;
Realistic Page Turning;
Availability of Social Network.
Free TrialBuy Now
Flash Player 10.0+
Why Use?
Features
Screenshot
How It Works
Postscript to Flipping Book is flipping page software which popular used in different ways, like: digital books, advertising brochure and presentation to a speech or commercial conversation. With the useful Postscript to Flipping Book, you don't need to worry about your files because the powerful flipping page software helps you to get the most persuasive files.
1. Right to Left (RTL) Reading:
Postscript to Flipping Book supports both Left to Right (LTR) and Right to Left (RTL) flipping mode. Middle Eastern languages such as Hebrew and Arabic are written predominantly right-to-left. So you can select Right to Left for this these people.
2. Offline, DVD\CD and USB version:
Postscript to Flipping Book can generate offline versions for Windows (.EXE format), Mac OS (.APP format) or iPad/iPhone/iPod touch. We provide an App for publishing your publications into iPad/iPhone/iPod. So your readers can read these publications offline.
3. Realistic Page Turning: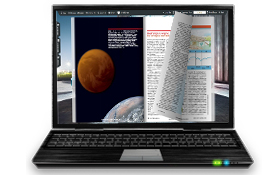 Postscript to Flipping Book is flipping page software that mainly used to make flip book with realistic page turning effect. And readers can view your flipping book with sound on or auto flip. Moreover, the design of page shadows gives a real book feeling to readers, just like the moonlight or sunlight on your flipping book. Besides, readers can drag the page corner or click the shadow of the pages to turn books.
4. Availability of Social Network: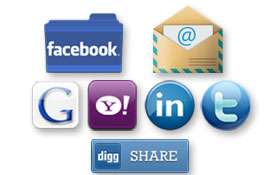 The Postscript to Flipping Book supports the social network. You can upload links to pages in Facebook and Twitter. Withal, you can send the links via the e-mail or embed your page flipping book masterpiece into others' sites.
5. Password Security: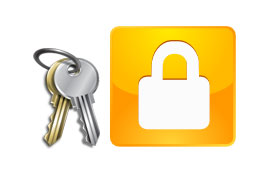 In Postscript to Flipping Book, you can set single password to the flipping book, then readers should type the password to view your page flipping book. And the password can protect all pages or exclude several pages from the front pages.
6. Google Analytics Function:
The wonderful Postscript to Flipping Book embeds the Google Analytics function, so if you have registered a member of Google Analytics, you can make use of it. You can input the code of Google Analytics to every flipping book you made, and then you can get the statistics from your Google Analytics account live. Google Analytics data improves your website business performance and ROI of advertising and marketing.
7. One-time Fee, Free Upgrading Forever:
In order to promote services for faithful customers, we would upgrade every product scheduled or non-scheduled, and you can upgrade your flipping book maker freely and timely. The Postscript to Flipping Book is a totally one-time fee product, so you can convert as much Image files to flip books as you wish and without paying any penny to us.
8. Quality and Satisfaction Guarantee for 30 Days:

The Flipping-Book-Maker is a sincere company which pursues searches on page flipping products for 4 years already and endeavors to provide the best services for every customer. From the day you pay for the Flipping-book products, you will get a guarantee for 30 days that you can apply for a full refund if you have any problem while we cannot solve or you have any dissatisfaction for the flipping book maker you have bought.
9. Custom Services:

Flipping-Book-Maker promises to provide customers the most intimate and constant Custom Services. Although every product of us is easy to handle, when you're puzzled with any operations or better suggestions, we will solve soon, because you support, and we progress.
Postscript to Flipping Book will bring you convenience flipping book!
1. Importation from the original Postscript:
(1). Choose Postscript files to convert into flipbook;
(2). Import bookmarks, links of the original Postscript document;
(3). Set watermark to protect the flipbook;
(4). Select the page quality of the flipbook;
(5). Enable search to make the flipping book more convenient to readers;
(6). Detect wide pages to make a landscape page into two portrait orientation pages.
2. Flipping Book Features:
(1). Zoom in:
When making the flipbook digital, enable zoom in button, then readers can better see your pages.
(2). Print:
Show the print button then readers can easily print your flipbook digital into real book;
(3). Download:
Permission to download then readers preserve your flipbook digital on their own PC and see it timeless;
(4). Full screen:
Full screen to read your flipbook digital can make readers better to be addicted to your flipbook digital.
3. Text Search:
The Postscript to Flipping Book has a text search function that can be realized with 4 steps only.
(1). Enable search when importing the Postscript file;
(2). Show the search button in your flipbook;
(3). Pick a highlight color for the found keywords;
(4). Select the least search characters.
With these four steps and assurance of your Postscript is text format, your readers can flexible use this powerful text search ability of your flipbook.
4. Output Formats
Postscript to Flipping Book is individual flipping page software that convert flipping books and output in different formats:
(1). HTML: Online and offline show your flipping book;
(2). ZIP: E-mail to friends to share an elegant flipping book of you;
(3). Mobile Version: iPad, iPhone and Android mobile devices can view your flipping book at the same time;
(4). EXE: PC can distribute your flipping book separately;
(5). APP: Mac accepts your flipping book naturally;
(6). The page flipping book can be burnt to CD/DVD.
5. Toolbar Language:
The language of the flipping book converted from the Postscript to Flipping Book can be chosen, and you can choose multiple languages for various nationality readers of your flipping book.